Welcome To DocShipper

---
Sea Freight Services From & To Qatar
Introduction
This page will guide you into all the details needed related to sea freight or shipping from and to Qatar. There are two types of shipping methods to keep in mind concerning sea freight. FCL & LCL, that stands for (full container load- less than a container load).

Shipping by sea offers a chance to contribute to the scale of economies, due to  freight forwarder companies that allows us to deliver  huge amounts of containers used per shipment, making it the most common way of shipping used today.
SUMMARY
1.1) LCL Services From Qatar

1.2) FCL Services From Qatar

1.3) Shipping Lines In Qatar
2.1) How Much Time Is Needed To Send A Container to Qatar?

2.2) Operational ports in Qatar for international sea freight.
3.1) What Information Is Needed By

DocShipper

Qatar

To Give A Detailed Quotation?

3.2) How To Find The Cheapest Sea freight prices?
5.1) Why Should We Have Marine Cargo Insurance On Your Shipment?

5.2) Sea Freight Insurance Cost ?

5.3) Declared Value - Finding The Right Balance
6.1) Competitiveness

6.2) Agile

6.3) Specialized service

6.4) Operational Efficiency and Flexibility.

6.5) A Local Qatar Freight Forwarder –

DocShipper

6.6) Packaging
7.1) Advantages of sea freight

7.2) The inconvenience of maritime freight transport
Step 1:

Conveying Merchandise from Export Suppliers to your shipping company's depot.

Step 2:

Transfer of goods to the port.

Step 3:

Presenting documents for export customs clearance

Step 4:

The shipment is transported from the port of departure to the port of  arrival.

Step 5:

Clearance of products from local authorities.

Step 6:

Delivery from the port of arrival to your final location.
9.1) EXW

9.2) FOB (free on board)

9.3) Cost and freight (C&F) or Cost, insurance and freight (CIF)

9.4) DAT  

9.5) DAP

9.6) Is there door-to-door services in sea freight offered by DocShipper?
10.1) Bill of Lading (BOL)

10.2) Commercial quotations

10.3) Packing checklist

10.4) Certificate of Origin (C/O)

10.5) Insurance certificate
11.1) Air freight vs. sea freight

11.2) Air freight or sea freight –

DocShipper

recommendations
1) Sea Freight Shipping From Qatar: Rates, Time And Procedure
1.1) LCL services from Qatar
In case a client does not have enough material to book a complete size container, we would advise them to negotiate with the consolidator to book a place on a LCL container "Less Container Load", in which it specifically means sharing a container along with other parties.
1.2) FCL services from Qatar
If the customer decides to ship material in a container compartment using the FCL method (Full Container Load). Keep in mind that the customer does not need to completely load the reserved container, the choice of using all the space or leaving an unfilled space in the holder is simply left to the customer. The consolidator organizes a full container (FCL) in addition to consolidating the goods of other clients. In other words, the freight forwarder company that books a full container agrees on the material from other clients and pack all of them in a single container that has been registered for FCL (Full Container Load). The freight company delivers the product either by the place of intended destination or transshipment locations, to other recipients and other ports. When the merchandise reaches its location, the shipping company delivers them separately to each client and collects any due fees.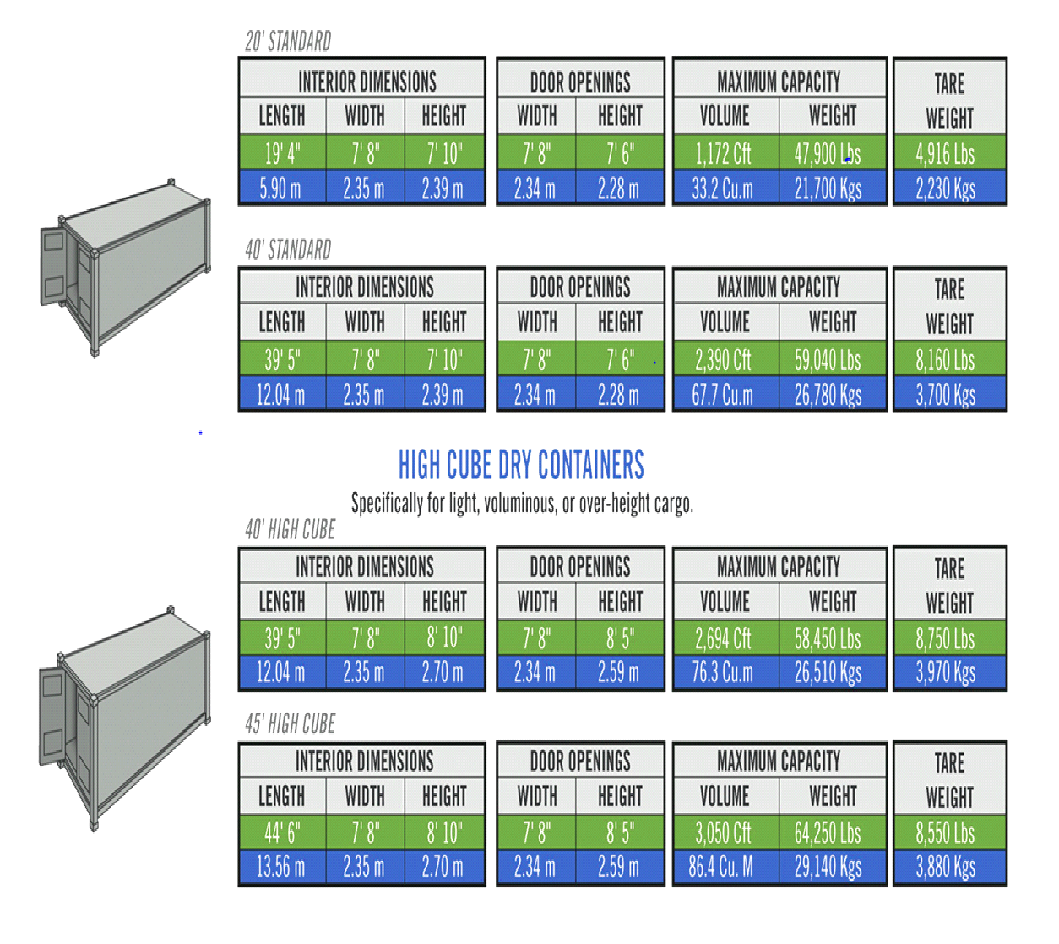 Note DocShipper: We advise our customers on the use of FCL containers if their item shipped is 15 m3 because it will save them money and will not exactly cost them as much as an LCL shipping strategy, regardless of whether the compartment is halfly full.
We Work With The Best Shipping Lines
2) Sea Freight From Qatar – Estimated Time Of Transit
2.1) How much time is needed to send a container to Qatar ?
| | |
| --- | --- |
| City | transit time |
| Fos/Mer | 24 - 45 days |
| Busan | 25 - 34 days |
| Shanghai | 24 - 33 days |
| Singapore | 24 - 33 days |
| Mumbai | 24 - 33 days |
| Rotterdam | 31 - 37 days |
| Le havre | 24 - 45 days |
| Los Angeles | 29 - 35 days |
| Barcelona | 21 - 50 days |
Note DocShipper Qatar: The delays related to the table above excludes unexpected steps for example procedures related to clearance can in some occasions postpone the goods for a couple of days.
2.2) Operational ports in Qatar for international sea freight.
Hamad Port
Qatar's main seaport, found south of Doha in the Umm Al-Houl region. The port's setup began in 2010; and became functional in December 2016. It was officially opened in September 2017, and is said to start  operations by 2020.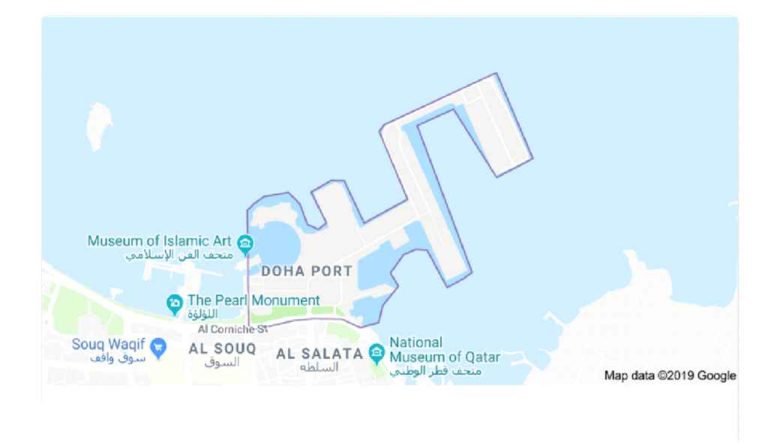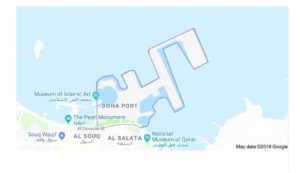 Note DocShipper Qatar: For more details related to the Doha Port, you can read more by clicking here: Hamad Port
Doha Port
Doha port is one of the busiest commercial ports that Qatar operates on today, handling several types of material and cargo. Milaha Port Services took the operations and management control of Doha's Port in 2011, and created a one-stop shop employing sophisticated technology and streamlined steps to enhance the cargo clearance process,  in addition to health , environmental and customs procedures . A advanced short- and long-term planning system was also executed that made waiting time less, if at all, for vessels in the harbor area.
Note DocShipper Qatar: For more details related to the Doha Port, you can read more by clicking here: Doha port

Ras Laffan Port
The port of Ras Laffan is situated almost 80 Km to the north from Doha city by the northern east coast of Qatar, The port of Ras Laffan has an added value with is strategic location, it is right in the middle of the industrial zone in Qatar, that makes it a very busy port. Port of Ras Laffan is one of the biggest hydrocarbon & liquefied natural gas LNG exporter that exports a yearly amount of approximately seventy seven million-tons. With its multiple facilities this port can host more than one type of carrier or ship. The list of types of vessels are listed below.
LPG carriers
LNG carriers
Supply vessel
Dry cargo carrier
ballast tankers accommodates large loads (300,000 DWT)
3) How To Receive And Understand A Sea Freight Quotation?
 3.1) What Information Is Needed By DocShipper Qatar  To Give A Detailed Quotation?
* Incoterms
It is commonly used by import and export experts. incoterms relatively gives more details that focuses on the roles that should be played during transport of material through the client and the shipping company. More detailed explanation on the necessary information concerning "incoterms" would be available in the following sections of this page.
The weight (Kg) & The volume(m3)
Your load plus the volume are the two components that could have the greatest impact on your shipping order. they absolutely need attention from both parties of the transaction.
Note DocShipper Qatar: Freight forwarder companies would charge you according to the heaviest load of total weight and the the volumetric weight while shipping internationally.  The weight in total is the one measured with a scale, in kg or tons. Volumetric weight is calculated in a different way, by multiplying the volume :m3 by 1,000
Some merchandise are trickier than different types of goods during transportation phase: some are delicate, others are hazardous… thus it is important to follow the rules and regulations that have been set internationally to establishing safety measures so that everything could be safe and under control in addition to paying close attention to minor issues during departure and the shipment arrival
Arrival address and departure
Important aspects of a freight quotation: arrival and departure point. This method facilitates a computation of prices related to the departered and arrived merchandise shipped between the ports.
Info DocShipper Qatar: Easy access to specific regions is to be able to deliver the adequate needs and also important for the terms being handled.

Packaging requirements
A special packaging should be done to each type of product to make sure that a secure shipment. sometimes, it might even be a requirement to follow a specific way of packing for the products to be shipped in a legal way.
Tips DocShipper Qatar: One of the most important phase during the shipping process is packaging because it gives us the chance to setup the products in the correct and safest manner from the departure till it arrives to its destination, not neglecting this point is a vital required process.
3.2) How to find the cheapest sea freight prices?
Our team that is based on experts in import/export logistics constructed a group of  7 main points to take into consideration if you want to make shipments using sea shipping.
understand what is the business you have
Find more information related to the market prices
Having the best shipping method LCL or FCL
Quotation auditing
Plan effectively
Your merchandise packaging should be in the correct mannar
The faster the delivery the more the cost
3.3) Our department of maritime freight – Our action plan
 merchandise sensitive to temperature changes
 Dangerous products
 Large shipments by the volume of cargo
 Delicate product.
 Personal merchandise
4) DocShipper Qatar Sea freight department Scope of services
 4.1) Shipping Dry goods temperature by ocean Freight from Qatar
 4.2) Shipping goods under controlled temperature by ocean Freight from Qatar
 4.3) Shipping Bulk Cargo by Sea Freight from Qatar
 4.4) Shipping Out of Gauge by Ocean Freight from Qatar
 4.5) Shipping Roll-on Roll-off by Sea Freight from Qatar
 5) Insurance of sea freight – The DocShipper coverage plan
 5.1) Why should we have insurance on our cargo?
International logistics isn't an easy task. There are different risks with respect to the transportation of the product through all the steps related to shipment. These risks associated with Sea freight such are natural and are as followed: processing mistakes, human mistakes or simply environmental related risks .in either of the case, there would be an undeniable threat, that's why it is always a better idea to be covered by an insurance company for instance if something was stolen, damaged or  loss of material.
5.2) Sea freight insurance cost ?
The cost of coverage varies according to the assessed exposures. A number of considerations would be put into account, for example the location that the goods are being shipped to, material handling, the packing & the type of goods.
DocShipper Qatar Info: Insuring fees are usually calculated according to the type of merchandise and shipping: about 0.95 percent for the commercial goods in addition to a 3.1 percent for private merchandise.
5.3) Declared value - Finding the right balance
Under the above-mentioned conditions, the coverage shall also be on the basis of the declared price of the items. Insurance package, in the event of a claim depends on the reported cost. This is an essential factor to consider, since carelessness may result in misunderstandings and disagreements ( further custom duties would be exercised on the goods claimed worth).
DocShipper Qatar info: Many customers always ask about how to evaluate employees' positions. Generally, it is advisable to include an assessment regarding the (market worth):
Do not under-report your goods: when customs clearance check the container, if customs are in doubt about costs of the shipment, significant fees would be placed as penalties by the customs officials. In the event of a dispute, your coverage plan would only cover the priced value of the goods.
Avoid over-reporting your merchandise: However, when you add value to the consignment, the customs charges may be quite high.
6) Why would you choose to do business with a local freight company like DocShipper Qatar?
The most convenient method of working with a customer is when the business is done directly with the freight forwarder. DocShipper Qatar has realized that being close to that customers play an important part of ensuring a credible & lifelong connections.
 1. Competitiveness
With its proven and accredited logistics organization, combined with its knowledge, experience in addition to the network in the field, DocShipper Qatar is able to deliver the most competitive prices than any other reputable company in the industry.
 2. Agile
Besides the fact that we are low priced , we also emphasize on the versatility in our workforce. We handle each transactions in the best possible way in an effort to deliver a suitable service that is flexible and responsive to all needs and expectations.
 3. Specialized service
DocShipper Qatar is first and foremost a companion who accompanies you throughout your logistical steps. A specialist responsible of guaranteeing the safety of maritime transport from dispatch to arrival. The specialist will be at your disposal to supply the client with the necessary information and updates to improve the efficiency of your operations and prevent any potential discrepancy with the classical "customer support".
4. Operational Efficiency and Flexibility.
DocShipper has always aimed for customer satisfaction it is one of our main goals, that's why we developed a specified department to be very attentive and helpful. Our logistics experts can guide you through the whole procedure of your shipment for it to maintain a flexible and efficient voyage.
 5. A Local Qatar Freight Forwarder – DocShipper
The wide field of logistics makes it a little tricky in terms of importers, the risk of being scammed or having a poor handling of your shipment falls upon your responsibility to choose a local trustworthy freight forwarder like DocShipper Qatar
 6. Packaging
Our packaging strategy falls upon the type and size of product each product has its distinct characteristics and a specific way of handling during the process of packaging.
7) Advantages and disadvantages of maritime freight
8) The step by step procedure for international shipping of containers
 Step 1: Conveying Merchandise from Export Suppliers to your shipping company's depot.
While organizing the shipments, we will be in touch with the client to ensure that we can anticipate even the simplest requirements, especially in regard both to packaging and to the shipment of the goods.
Step 2: Transfer of goods to the port.
when the authorization of the shipment papers from the Export Services team is given, the shipment is then forwarded to the harbour of dispatch.
Step 3: Presenting documents for export customs clearance
To legally be able to export merchandise, it is compulsory to pass through the customs of export as well as specifying the type of items in specific with the so-called "packing checklist".
Step 4: The shipment is transported from the port of departure to the port of arrival.
After loading the goods Aboard for the shipping process, the load is transported to reach its destination. Several 10 to 45 days, the vessel arrives at the destination port. The merchandise will shortly be released.
Step 5: Clearance of products from local authorities.
After the goods reach its destination, they would be subjected to domestic tariffs. We would be working with domestic officials in order to fix the customs clearance for all goods that have been cleared after the tax procedure.
After the cargo reaches the customs offices, the necessary papers should be supplied over to the customs for the purpose of determining the tax liability. As a result, we will connect with the appointed "customs broker" who is designated by the local officials in addition to the customer.
Once the customs duties have been paid, the merchandise is cleared and can be delivered.
Step 6: Delivery from the port of arrival to your final location.
to finalize the shipment process, it will be done using our dedicated transportation logistical group to dispatch the item to the requested destination. We will take care of the unloading upon delivery if it is necessary. ( For the latter point, it is recommended that it be cleared through an agent on the customs of the port location ).
9) The incoterms in international maritime freight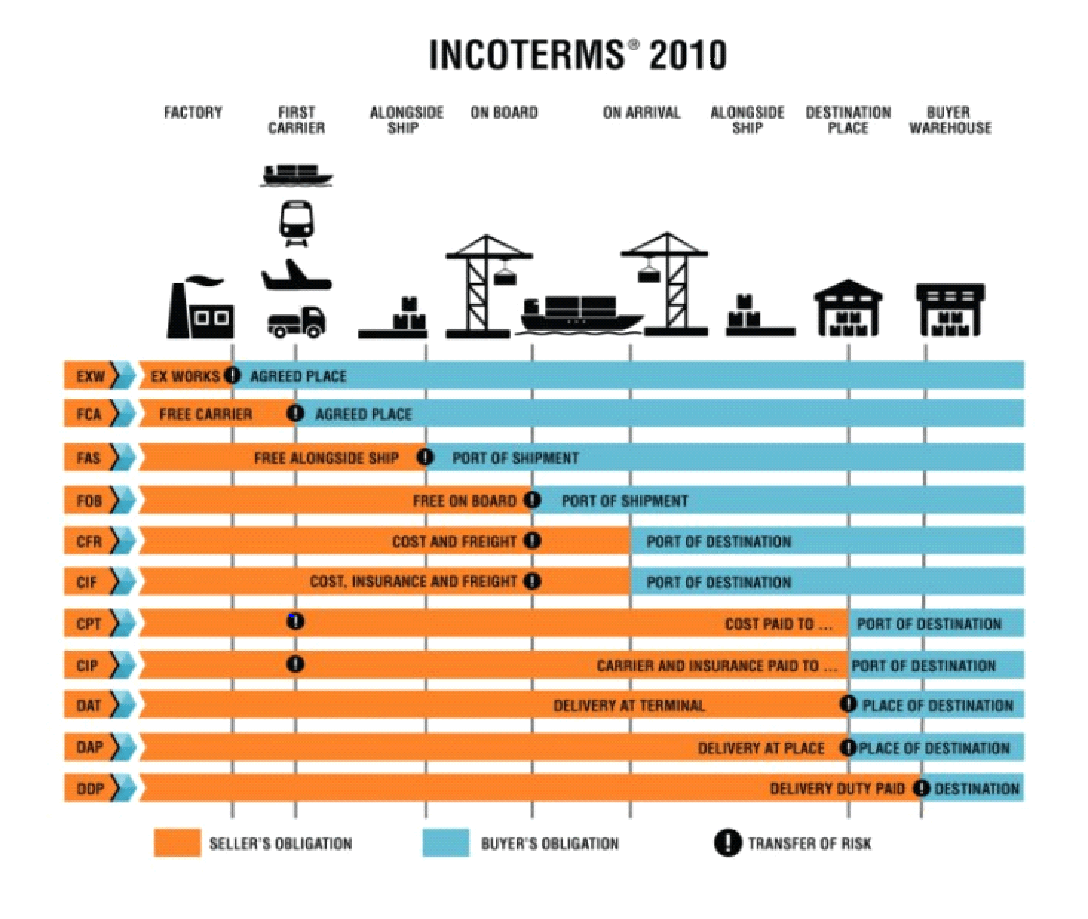 9.1) EXW
When the customer chooses EXW, it means that the complete process will be the responsibility of the customer: from the supplier to a location desired. So the responsibility would be to take care of all factors of the process to get connected to a freight forwarder like DocShipper Qatar that offers  services such as door to door.
 9.2) FOB (free on board)
During the purchase of a deal using FOB, this means that the seller is in charge of transporting the shipment for delivery until the arrival to the destination port, having a professional term used is FOB setting , in other words, the merchandise and the shipment have already been authorized to be exported through the national Customs and has been loaded on to the vessel.
 9.3)  Cost and freight (C&F) or Cost, insurance and freight (CIF)
Sending a shipment with CFR or CIF is a concept related to FOB Incoterms, with the sole exception of the fact that shipping whether by air or by sea the costs would be added to the original customer liabilities ... Notice there is a distinction between the CIF & CFR that is the coverage wich is available with going CIF.
9.4) DAT  
For example, such an incoterm can be utilized to purchase the merchandise and transport it via the port, example: Doha port It is therefore in your hands to collect the goods in the harbour's designated zone. It should be noted that the DAT Incoterm consists of all domestic shipments to identify the off-loading of the cargo, then unbundling costs (if any) and customs clearance.
 9.5) DAP
Our final Inco-term for this section is DAP, it represents the door-to-door approach, in other words, technically speaking, all goods are transported to the desired destination, your depot, workroom or home.
9.6) Is there door-to-door services in sea freight offered by DocShipper?
DocShipper has developed an amount of significant knowledge in the international shipping business and now proposes to offer a door-to-door shipping service. With a first class solution that offers end-to-end assistance for all processes from beginning to end, the goods would be delivered at the customer's ease, where the least amount of effort is taken, and won't be disturbed at any stage of the journey.
10) Documents required when shipping products to Qatar by sea freight.
10.1) The Bill of Lading (BL)
The BL is one of the most important documents required to clear your goods. As the CO is certifying of the origin of your goods, the BL is witnessing of the payment transfer from the importer to the freight forwarder, and of the issuance of the LC (Letter of Credit).
Here is a detailed example of what a BL is containing:
1 = Shipper
2 = Consignee
3 = Notify party
4 = Vessel No.
5 = Port of loading / discharge
6 = Place of receipt / delivery
7 = Containers No.
8 = Goods description
9 = Net weight
10 = Dimensions / volume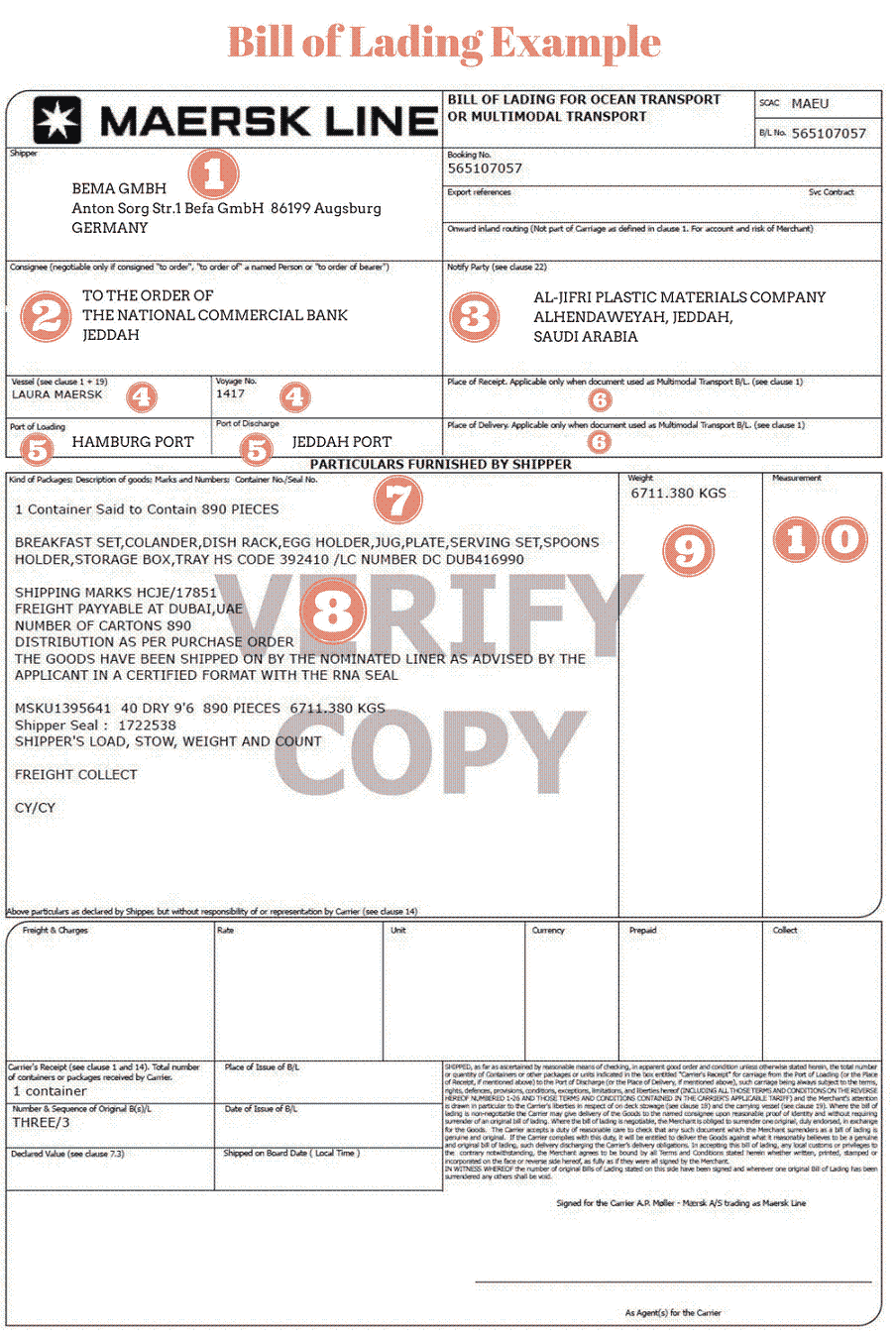 The shipping company and/or his agent shall provide this certificate as proof for the transportation of merchandise to the client can take place. It also represents a accepted merchandise would have receipts shipment and is required to be submitted for receipt on delivery. This agreement shall include:
1) A list of the consignors and consignee,
2) The arrival and departure port names,
3) The ship's name,
4) The arrival and departure dates,
5) For each consignment, the quantity of goods carried and the number of   packages,
6) Brand & quantity of packages,
7) For each shipment, weight and volume,
8) Freight fees in addition to tariffs.
 10.2) Commercial quotations
The documents needed for local authorities in order for them to calculate the precise amount of the shipment and to also identify any possible further tax liabilities. many important specifications must be pointed out in a commercial quotation, for example:
* given information about the seller & buyer
* the sales date and conditions
* The cargo packaging
* Detailed product description
* Overall unit value
* Liability shipping, insurance in addition to different fees
10.3) Packing checklist
The parcel checklist is a necessary component of all forms of cross-border maritime transportation by: air, sea, rail and road freight.. Just like a business quote, the loading checklist should contain all the details of the shipment.
DocShipper Qatar Note: Compared to the business offer, that is between a single supplier and a single buyer? The packaging list is used to make a record of past orders made from different suppliers.
10.4) Certificate of Origin (C/O)
The certificate of origin (C/O) represents a record that has been used logistically & internationally. Either on a hard copy or in a digital form, with the support of the government agency that certifies the accuracy of reported information the freight forwarder will complete the CO . For example sometimes Chinese Suppliers may name this report as "Form A". The parcel checklist is a necessary component of all forms of cross-border maritime transportation by: air, sea, rail and road freight.. Just like the commercial quotation, the packing checklist should contain all the details of the shipment.
10.5) Insurance certificate
Evidence of an agreement by the customer and the insurance company that will cover the shipment is provided in an insurance certificate. The certificate provides an explanation of the cost of the coverage as well as the terms and conditions of the contract.
11) Comparing - air freight & Sea freight.
 11.1) Air freight vs. Sea freight
Shipping by sea is the most economical method of transportation for shipments above specific amount of goods by a large margin. It is usually preferable to transport merchandise selecting sea freight only after the space needed went above 2M3 certain circumstances 1.5m3). In the case of reduced volumes, it is recommended that the freight used should be by air.
Obviously, sending completely full containers in water is very simple. the most favoured way of delivering used by all major industrial corporations, notwithstanding the fact that they have slower transport duration, the savings achieved are to be considered.
 Twenty-foot container = 33 m3
 40 feet container = 67 m3
 40-ft container HQ = 77 m3
 2. Delaying
By far the most time-consuming mode of transportation with respect to hold ups is sea freight. For instance, a postponement with  Qatar and China would take:
 From five to seven days using air freight
 Forty to forty-five days by sea
 3. Flexibility
Maritime freight, unlike air and rail freight, is very flexible in two respects: The size of the shipment and the type of products. After all, when it comes to a 20-metre truck or a small 3 m3 package, and there would be no limitations on the size of the parcel, then sea shipping is the way to go. Besides the size, and the kind of products, it also matters. For instance, Lithium or other liquids cannot be sent by planes.
11.2) Sea Freight - DocShipper Qatar Recommendations
Certainly, when it comes to the " cost " associated with your potential shipment, marine freight is the right decision. As discussed previously, the way of shipment is more advantageous for most cargoes and shipments. However, in the case of small packages ( typically smaller than 1.4 m3 & 1.9m3), a faster option like air freight would be advisable.
DocShipper Qatar Info: Remember: there are several different container sizes, however, in most cases these three are worth keeping in mind:
12) Sea Freight Shipping from Qatar - FAQs
Interested in our logistics services? Need further assistance & dedicated information?
Our DocShipper experts answers within 24h !
DocShipper | Your dedicated freight forwarder in Qatar !
Due to our attractive pricing, many customers trust our services and we thanks them. Stop overpaying the services and save money with our tailored package matching will all type of shipment, from small volume to full container, let us find the best and cost-effective solution.
Communication is important, which is why we strive to discuss in the most suitable way for you!