WELCOME TO DOCSHIPPER
---
WAREHOUSING & STORAGE SERVICES IN QATAR
Introduction

A warehouse is a storage structure constructed for the protection of the quality and quantity of the stored merchandise. The goal of warehousing operations is an essential step to satisfy customers needs and requirements while utilizing space, equipment, and labor effectively. The service of warehousing is essential for the protection of goods from potential damages, it also helps firms to carry on  production throughout the year and sell their products, whenever there is adequate demand. The need for a warehouse arises due to the time gap between production and consumption of products.

SUMMARY
1.What kind of warehousing services do you need in China?
1.1) Commercial goods storage
1.2) 3PL Logistics/ E-commerce-fulfillment
1.3) Self-storage for personal effects
2Warehousing services
2.1) Pick and Pack
2.2) Labeling
2.3) Inventory & stock management
2.4) Cross-docking
 3 Special warehousing services
 3.1) Reverse Logistics
 3.2.) Free Trade Zone
 3.3) Distribution Center Management
 3.4) Cold storage
4 Insource or Outsource Your Warehousing: What Makes Most Sense?
4.1) Reasons to Keep It In-house
4.2) Reasons to Outsource
5 Why choosing us?
5.1) Top warehouse provider in [Country]
5.2) Where are our warehouse
6 Our technology
6.1) Warehouse Management System(WMS)
6.2) Proof of Delivery (POD)
 7 FAQ - Warehousing
 What are the benefits of using a third-party warehouse and delivery service?
 How much do warehousing services cost?
 What are the signs of a high-quality third-party storage facility in [Country]?
 What kind of goods can you store?
 How should the goods be labeled? Can DocShipper finalize the labeling at the warehouse?
 What should i know about insurances?
 Should I acquire the packaging material needed for my products?
 What are your hours?
 How do i track my  inventory?
 Can I customize my services?
 What do you charge for your services?
 I have a question that isn't listed here, what do I do?
1) What kind of warehousing services do you need in Qatar?
1.1) Commercial goods storage
Often businesses must store goods and materials safely, especially those related to factories, shops, food, agricultural and construction fields. The storage of commercial goods takes place in different ways and requires expertise. We are the best packers and movers in commercial goods storage services. We at Docshipper ensure high proficiency, and fast service.
Overview
Warehousing is the act of storing goods in a big premises, either in an underground space, or in a structural building, it is usually used by manufacturers, importers, exporters, customs, and others.
Different storage techniques for different goods
Warehouses are usually well structured and extremely organized in order to secure all kinds of products, they usually use forklifts or cranes in order to move and store goods, all of that is applied while following ISO's rules and regulations for  warehousing standards. A well organized warehousing service should be aligned with the international safety standards in order to make sure that the client goods are safe and in good hands, so that what we at DocShipper promise in order for us to deliver the products of our customers as swiftly as possible, to avoid any unnecessary extra charges or waste. Our warehousing service is not limited to Qatar only, we are proud to declare that we provide our services in several countries such as China, Thailand, Vietnam, KSA, UAE, Lebanon, and others.
Info Docshipper : We at DocShipper would like to grab your attention on a few things that you should consider when you choose to store your products at a warehouse company:
 

First: you must choose a certified and legal warehouse company, because they must be responsible for storing your goods safely.
Second: you should be prepared at all times for emergencies such as natural catastrophes.

1.2) 3PL Logistics/ E-commerce-fulfillment
Nowadays the majority of businesses are operated online, E-Commerce is highly integrated into the world market as a tool used to buy and sell products, since this stage moved to online, e-commerce third-party logistics (Docshipper) came to help you after your customer places the order, to solve several problems such as shipping, packing, inventory, and warehousing.
At a regular retail store, the owner can simply hand over the product to the consumer without any disquiets, while with e-commerce it is totally different, you must make sure that the whole process from placing the order to consumption is smooth and professional as possible, and in case of any product is returned, you must have to manage the reverse logistics, that why we (Docshipper) step in and handle the whole process.
A. Overview.
Third party logistics providers include freight forwarders and companies integrating and offering subcontracted logistics and transportation services.
B. Fulfillment-Center
Fulfillment-centers make inventory management much easier and allow business owners more time to focus on their goals.
This alleviate online business of the mandatory physical space to store all of their goods and products.
Inventory management is a widespread operational obstacle for many online stores, but is a mandatory component of cultivating the best possible customer experience.
C. Call center
We at Docshipper have a dedicated call center team employed to handle all of our customer inquiries related to our services that we provide, our company consists of a professional multilingual team that can communicate in the languages listed below:
Spanish, French, English, Arabic, and Chinese.
Note: We reply to all inquiries within 48 hours.
D. E-fulfillment-services
E-fulfillment-services includes a full custom service of the whole process from checking an item online to buying it and finally delivering it to your doorstep, the process consists of hand labor and technological approaches it takes to deliver an online order to the consumer. The goal of e-fulfillment is to combine all the process mentioned above to create an exceptional customer experience before, during, and after the sale process. To handle the huge increase in online orders, you should use an e-fulfillment service that best suits your business.
We at Docshipper rely on e-fulfillment-services for several reasons, such as the below:
In order to manage our incoming daily customer orders.
Investing in technology to efficiently pick, pack, ship, and track online customer orders.
To provide low cost inventory storage in our secure and clean facility.
Custom order fulfillment quotes to fit our customer's specific needs.
Save us time and effort, in order to focus more on customer needs and experience.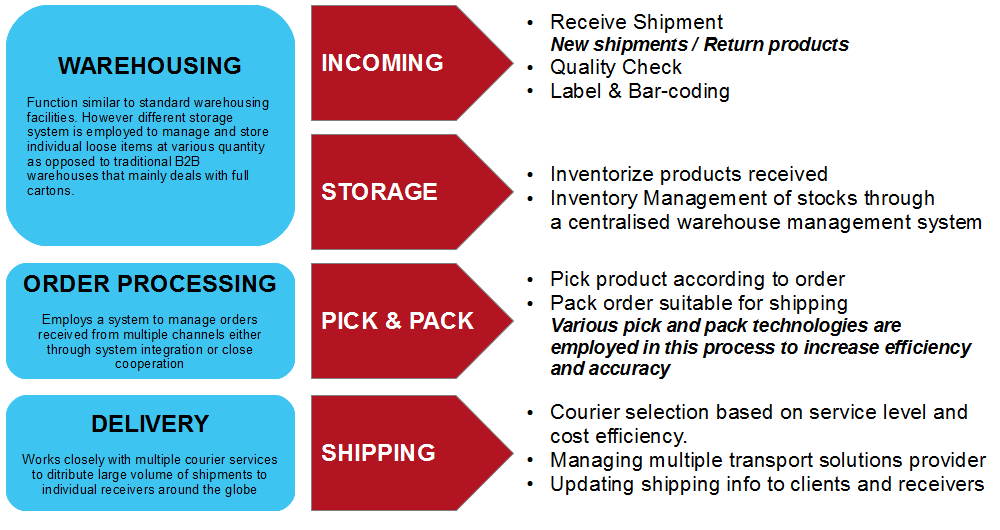 The things that the customer might face during the time of online ordering is crucial to the overall customer experience. The challenging part of fulfillment is that a lot can go wrong between the time an order is placed and when its shipped to their doorstep.
That's why our e-fulfillment-services are highly recommended because of the proficiency we have, and the accuracy we acquired since we started our business.
Note: We can assure you that your items are in good hands with Docshipper.
E. 3PL
E-Fulfillment services can also be referred to as 3rd party logistics (3PLs) or pick and pack fulfillment services.
In business, 3PL  Third-party logistics has a broad meaning, typically specialize in integrated operations of warehousing and transportation services, that applies to any service contract that involves storing or shipping items,that can be scaled and customized to customer's needs, and those needs are based on market conditions, to meet the demands and delivery service requirements for their products. A 3PL service may be a single provider, such as transportation or warehouse storage, 3PL targets particular functions within supply management, such as warehousing, transportation, or raw material provision or it can be a system wide bundle of services capable of handling supply chain management.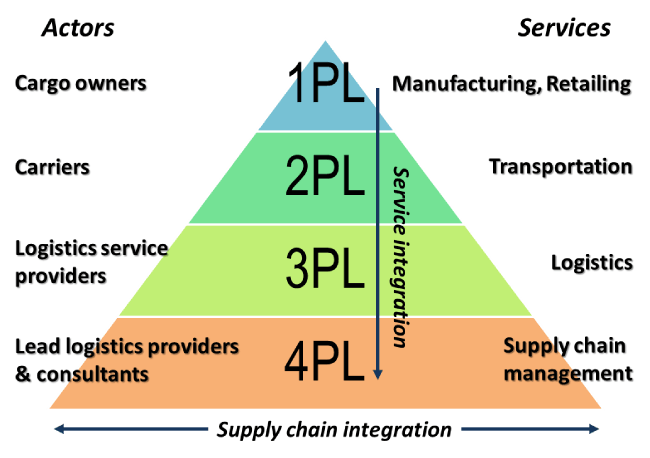 Docshipper announcement: Our fulfillment packer is the last one who touches your products before you receive it, that's why in our opinion 3PL fulfillment has a major impact on how our customers discern our company. Delivering the correct product, to the correct customer, at the correct time, is crucial to our success.
1.3) Self-storage for personal effects
Moving into a new house or relocating is a stressful situation, where regularly you need a place to store your personal items in order not to get damaged while moving, and sometimes the relocation takes time especially when you have big items or fragile ones, that's why we step in to help you with your move.
Whatever is the size of your items, we can guarantee you the suitable space for storage.
Self-storage can help in many important situations in life:
Renovating or extending: if you are renovating, moving your furniture into storage can help protect your items from damage and make it quicker to get the job done.
Traveling or moving abroad: if you get the chance for a long break or to work abroad, self-storage is one of the solutions. It's useful both for homeowners and renters.
Moving Out: your family is growing bigger and you are in need of more rooms, we can help you store your furniture and household goods during your move.
Not enough space? if you need some extra space but don't want to throw your things away, storage can be the ideal solution.
Hosting your home: listing your home on Airbnb? Create space for your guests by keeping your personal belongings in storage.
A.
Storage for small and big volume
We have the space you need whether its a few boxes with your child's bicycle, or your big dimensional master bedroom, all can be handled and well stored by us.
You'll get all the space you need to come and go as you please and be safe in the knowledge that your items are secure, insured and untouched by the outside world.
B.
We Help You Store!
How DocShipper can help
Store as much or as little as you want: whether you need to store just a few boxes or the whole items of your home, we have units that are just the right size.
Store as short or as long as you prefer: from a day to a few months to a few years, it's totally up to you.
Get hold of your stuff when you need them: if you've packed away something you want, don't worry you've got 24/7 access permit.
Loading and unloading is easy: just drive up, use one of the wide loading bays and move things in and out with one of our trolleys.
You can get what you need to pack safely: boxes, bubble wrap and sticky tape are available at all our stores so you can keep your belongings safe until you need them.
You are: the only key holder
Why choose DocShipper
You can reserve online: all available units and prices are shown online, including any special offers. You can book a unit instantly on our website.
 only you have access to your unit. You get your own PIN code and all our stores are protected by CCTV.
Every self-storage room has its own alarm
Self-storage spaces
When you understand your business and logistics needs it will help us to find a way to provide you with the most suitable service solutions that will help grow your business on the long term. Our extensive network of dedicated and shared warehousing and distribution operations, combined with our designed tools and systems ensure cost-efficient distribution solutions, enable you to fulfill your commitments to your customers anywhere, anytime in the world.
Our warehouse facilities and logistics activities ranges from simple storage of goods to value-added services that hits our customer wants and needs, also our facility holds all necessary quality and hygiene certifications and has the following features:
Warehousing – export, import and domestic distribution centers
Order processing, inbound and outbound
Bar-coding, re-packaging, labeling, and quality inspection
Supporting business systems
Reverse logistics
Site and location analysis
Vendor/carrier performance
Load building
Dedicated picking and packing area
Stock placement and removal
Temperature controlled storage(cold and hot)
High-rack storage
Inventory management services
Cross-docking
 2.1) Pick and Pack
Picking and packaging in a warehouse is the process that is performed after an order has been issued or when merchandise is selected from the shipments. The warehouse accepts the shipment of a commodity; such shipments can be small or large, after the shipment is stored in the warehouse by the forwarder it is then registered into an inventory management system. Then, the repackaging is performed for forwarding to the appropriate destinations. Picking is the use of a pick-list to find the proper quantities of each product from its corresponding location in the warehouse. The packaging consists of placing the items in the right box, with the necessary packaging materials and documentation, before the packaging is labelled and shipped to the final consumer.
DocShipper | Your dedicated freight forwarder in Qatar !
Due to our attractive pricing, many customers trust our services and we thanks them. Stop overpaying the services and save money with our tailored package matching will all type of shipment, from small volume to full container, let us find the best and cost-effective solution.
Communication is important, which is why we strive to discuss in the most suitable way for you!