Welcome To DocShipper
---
Customs Port Law's & Compliance When Importing To Qatar
Alert : This page targets only customs duties and taxes practiced within Qatar's borders.

Introduction
When it comes to the importing and exporting process, keep in mind that local customs and port regulations are implemented, and covers all factors related to any shipped product, in and out of Qatar's main ports. Customers that want to practice freight forwarding should abide by the regulations issued to them in accordance by the local and national custom officials, and should also not neglect the responsible country officials controlling the import and export of goods  in accordance & in a legal manner.

Summary
1) How can DocShipper help you clear your goods at customs
Importer's Guidelines In  STATE OF QATAR
Important industries in Qatar
Customs Clearance
2) How Can I Simplify The whole procedure of customs formalities
Customs Clearance Single Window 'Al-Nadeeb'
3) What Are The Customs Duty Charges Rates & Procedures In Qatar



customs duty charges
What is an HS code
4)In what way is the HS code structured?
5) Exempted & Prohibited Goods
Exempt goods
Prohibited goods
6) Inspection & Legal Proceedings of Goods
Inspection of goods
Legal proceedings
1)How Can DocShipper Help You Clear Your Goods At Customs
Nowadays the world market, is rapidly-changing it's needs for manufacturing, shipping calendars have intensified resulting in a larger amount of work on the customs duty brokers,  a need to deliver customized services for the procedure of Customs clearance is nowadays vital to avoid delays and provide a swift service. Docshipper is one of the top customs clearances brokers in Qatar. We are capable of processing all kinds of legal cargo shipments from containers to break bulk and RORO, which represents the safest way of transportation of your Cargo  during its voyage to the Port of Meisaieed, Doha or even to the Port of Ras Laffan.
Furthermore, DocShipper can also be counted on for your deliveries from or to the airport/land customs (Abu Samra)/Qatar borders. we have a strong reputation for being a major customs broker operating in Qatar as well as in the Middle East. our logistics group also maintains strong ongoing professional connections between the Qatari government and other agencies and its special position as a preferred company provides a definite competitive edge in the management of complex and challenging shipments in addition to our rigidity of administrative formalities for the Middle East.
Importer's Guidelines In  State Of Qatar
The Qatari government implemented strict rules concerning cosmetic products, electronics, cologne automotive spare parts and toys, those rules and regulations have been set through the ministry of business and trade, consumer protection section and QGOSM Qatar General Organization for Standardization As stated by the government regulations, " Qatar's customs office would not allow restricted goods to be imported without evidence that they comply with the Qatari customs regulations, including compliance certificates, inspection records, from an authorized entity of the supplying national state ". In the event of failure to comply with the requirements of the Qatar and Gulf Standards Organization (GSO), it would be prohibited to access Qatar, according to the terms of the memorandum. Certificates of compliance delivered through DocShipper to ship legal products are accepted by QGOSM/Qatar  at customs clearance of such shipments upon arrival on Qatar's land.
It is a legal obligation for all importers to possess an import permit. Importation certificates will only be issued to the locals in Qatar or shareholder in a private company. Such permits should be recorded from the Ministerial department of Finance & Commerce. This also goes for all foreign-invested firms doing business in Qatar; nevertheless, non domestic enterprises in Qatar are required to local counterparts. The import of meats, for example ox and poultry-based foods, is subject to a hygiene and health attestation from nation that exports this product as well as a "halal" stamping attestation provided on request by an authorized Islamic institute in the exporting destination. For customs clearance of products  during this phase, people that imports them should include legal records regarding a informative custom clearance documents to present:
Bill of lading

Import permit

Pro forma invoice

Certificate of origin
Note: Details for the specified standards must also be provided from the national customs and port administration. If you are having difficulties about the specified standards, feel free to contact us, DocShipper would provide you with all necessary information needed to complete your shipment safely.
Important industries in Qatar
Qatar's major Import products are classified as follows under the International Trade Centre (ITC):
Jewels

Metal or steel parts

Furniture and bedding

Plastic materials

Personal effect
Automobiles

Aircraft, spacecraft

Electro- Technological equipment

Mechanical equipment

Food items
Customs Clearance
There are strict laws in Qatar which should be followed to ensure the customs clearance of the merchandise. As a result, it is necessary to ensure that all goods are registered using a customs entry form together with a manifold submitted on arrival at the customs office. After being physically examined, in the event that a difference is discovered in relation to the merchandise , extra duties as well as a penalty may be imposed. Infringement of customs regulations can lead to late arrivals, fines, warehouse/clearing fees and the recovery of the merchandise at the point of origin. If serious infringements occur, lawsuits may be filed.
2) How Can I Simplify The Whole Procedure Of Customs Formalities
Customs Clearance Single Window 'Al-Nadeeb'
The importance of Al Nadeeb' is because of its ease of use and access to every client that wishes to ship, to get straight to the point al nadeeb is a web-based tool that will simplify your whole procedure of customs formalities related to importation and customs clearance. Customers may verify the rate details to obtain the duties needed for clearance. It is possible for authorized brokers, people that import and export to carry out a variety of different web based activities, such as obtaining access to customs records and files, processing payment of customs duties and fulfilling other customs clearance requirements.
3) What Are The Customs Duty Charges Rates & Procedures In Qatar
Customs Duty Charges
Keep in mind that the merchandise being imported to Qatar will pass through custom duties and would be charged according to the cost of merchandise or the price of each unit alone. All calculations related to the pricing of the merchandise are executed by rules and regulations set forth by the customs and government officials.
Urea & ammonia  30%
basic goods  5%
Steel  20%
Cigarettes and Smoking related products  (100% or QR 1,000 /10,000 cigarettes).
How Can Customers Identify Their Taxes To Pay In Qatar 
To find out further details on taxes related to your products, please check the following link: Customs tariff Qatar
You should reach a page which looks like this: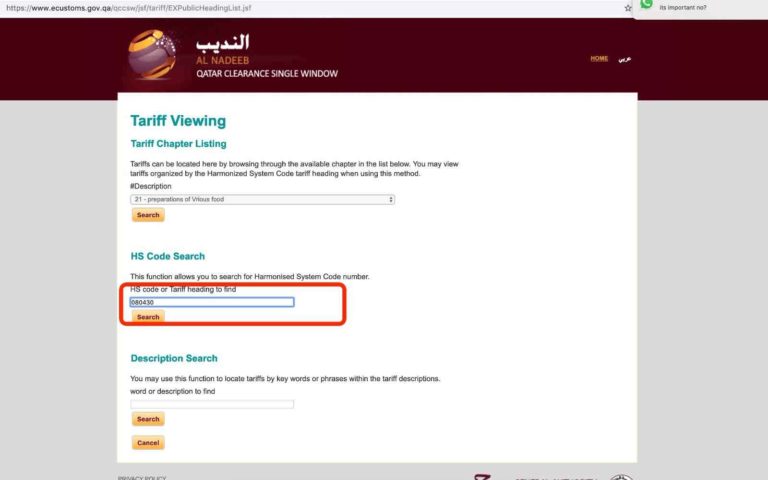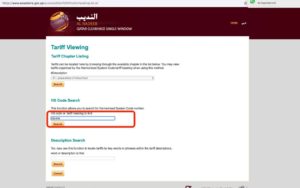 What is an HS code ?
The HS Code will help us determine the taxes. Once you know it, just fill the red frame shown on the picture:
Info DocShipper: If you don't know your HS code, feel free to contact our experts. In the meantime, your supplier is supposed to tell what HS code are his products.
HS is a common term used often while shipping it stands for (harmonized Commodity description and coding system) or harmonized system HS, these codes are used to classify products according to numerical forms that makes it easier for everyone to checkout all legal issues concerning the categorized  items listed on the system to ship.
More than two hundred nations as well as other major and emerging economies have adopted HS to help gather information for their customs duties including world trade figures. Over ninety eight percent of the traded commodities in the world are categorized on the basis of the HS .
the harmonized system helps, and makes it easier for customers undergoing any shipment process in addition to making it easier with the customs duties, as a result, using HS could lead to a lower price while handling shipments.
HS is also used to specify national tax, trading regulations, laws of the country the product is being shipped from, shipping duties delivery price approximate, surveillance merchandise and so on... that's why the HS is used worldwide by so many people it has become the base of financial data and study on the imported or exported items.
4)In What Way Is The HS Code Structured?
Overview
The HS code is structured based on 10 numerical figures. For the purposes of achieving compatibility, however, contractual entities are required as a minimum to apply 4 or 6 figure units, although they are at liberty to issue further cross-references.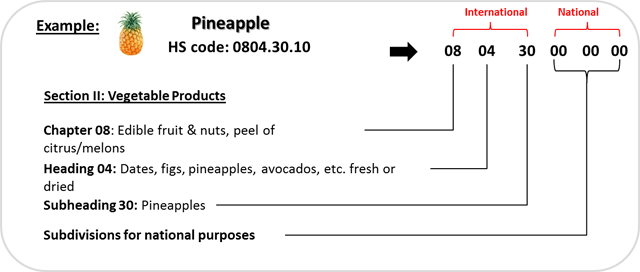 What is the HS code important for?
HS code is important because of its widely used role in many fields such as:
Custom duties
Gathering of data on cross-border traffic of goods and services
Standard Terms and Conditions of the country of origin
Levying national charges
Trade talks
Shipping rates and statistics
Supervision of monitored merchandise. e.g, garbage, drugs, chemicals,environmental threatening substances, arms...
Fields of border inspections for customs controls as well as proceedings, such as risk assessment, IT and compliance.
Let's continue the example with the Pineapple HS Code : 0804 30 00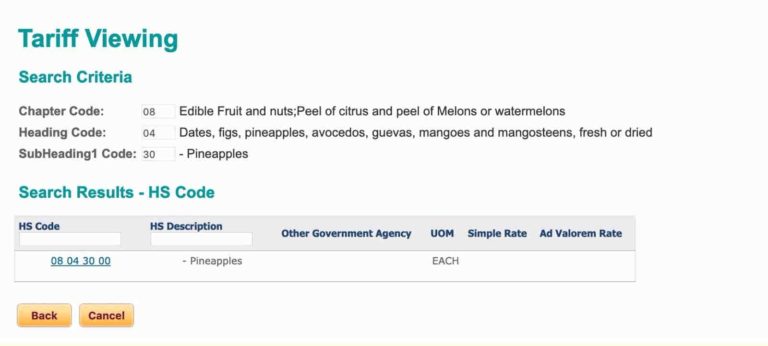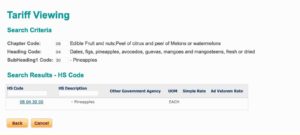 Now let's click on the HS code in blue color. Then you should reach a page which looks like this: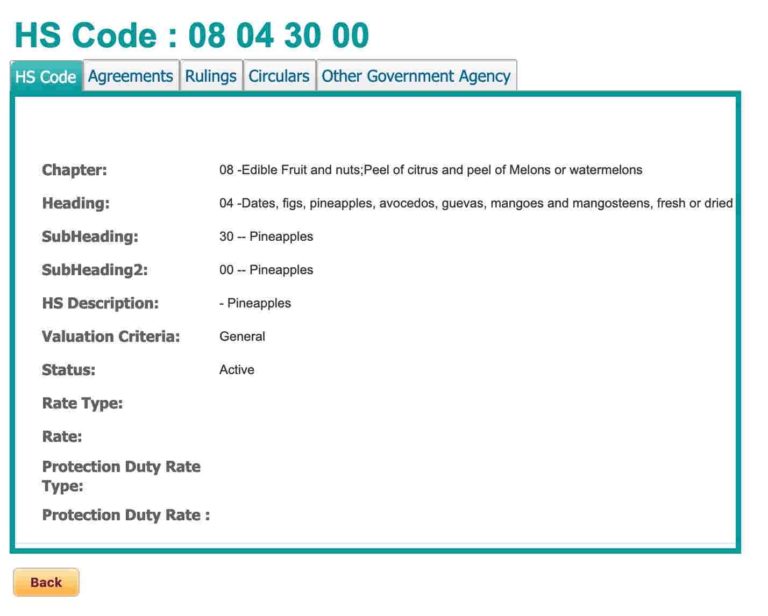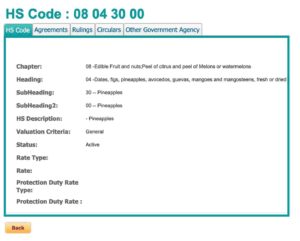 Note: In the agreements tab (as shown above), you can check if there are any agreements made between the country of origin and Qatar.
That is an important step in order to avoid misunderstandings on the Due day.
5) Exempted & Prohibited Goods
Exempt goods
The exemption classes covers the following areas: private or household material, gift importations, merchandise that are reciprocated, military and diplomatic indemnity. Merchandise that has been cleared in " duty-free zones " as well as tax-free stores are exempt and not subject to any duties. during the transport of goods in process. they can be processed, with no duty paid, at specified locations.
Prohibited goods
It is strictly prohibited to ship flammable substances, explosive materials, drugs, items that originated from countries that have been blacklisted internationally, generally prohibited products or goods violating any trading rule or regulation.
6) Inspection & Legal Proceedings Of Goods
Inspection of goods
The merchandise and its contents may be checked and inspected, normally with while either the buyer or his agent are at the inspection site. Nevertheless, products suspected, banned or wrongly reported could potentially examined without the client being available if they failed to arrive at the agreed time. Rarely, the merchandise might also require a check up prior to informing the customer.
When the check-up is deemed to be legitimate, the expenses of transport to the site of the check-up, and the department specified to repack your goods after inspection are the responsibility of the client. Items which are hazardous, toxic or forbidden can be discarded or exported back to origin.
Legal proceedings
The Customs agents have the authority both to inspect and investigate illegal activities as well as to conduct an investigation of both the merchandise and individuals allegedly engaged in the trafficking of illegal products.
Agents are authorized by law the right to enter ships docked at national seaports and to examine all goods transported in the ship.
Merchandise can be detained in both inland and offshore ports, at customs terminals, airports, marine ports as well as in all locations under Customs control.
Border officials have the authority to hold in custody on suspicion of illegal trade or hostility during their inspections
Info: For further details on customs regulations regarding merchandise in Qatar , you can visit the website of the General Customs Department.
DocShipper | Your dedicated freight forwarder in Qatar !
Due to our attractive pricing, many customers trust our services and we thanks them. Stop overpaying the services and save money with our tailored package matching will all type of shipment, from small volume to full container, let us find the best and cost-effective solution.
Communication is important, which is why we strive to discuss in the most suitable way for you!