In today's technology-driven world, people may order, buy, and utilize any goods from anywhere in the world. This subtle shift occurred in the modern business world as a result of efficient entrepreneurs' innovative thinking in understanding the minds of customers in a new way. It is now possible to run a business without a physical location and still generate millions of dollars in revenue. The Internet plays a significant part in this. It is the technology venture that has revolutionized the traditional company model, not only the buying and selling of products and the transfer of money via the internet. This e-commerce success has been triggered by the phrase "Order Now."
When you start tracking your purchases and arrival, logistics enter the picture. It's a vital aspect of the expansion of the e-commerce business, and it's critical to customer service and satisfaction. The purpose of this article is to investigate the function of logistics in the e-commerce sector.
What Is Ecommerce?
Ecommerce is a business strategy that allows organizations and people to buy and sell goods and services over the Internet. Computers, tablets, smartphones, and other smart gadgets can all be used to conduct eCommerce. Books, music, plane tickets, and financial services like stock investing and online banking are all available through e-commerce transactions. As a result, it's seen as a very revolutionary innovation.
Ecommerce, as previously stated, is the practice of purchasing and selling actual goods and services over the internet. It entails the exchange of data or currency between multiple parties in order to complete a transaction. It's part of the more significant electronic business (e-business) industry, which encompasses all of the operations required to run a business online.
By providing cheaper and more effective distribution channels for their products or services, eCommerce has allowed firms (especially those with a limited reach, such as small businesses) to obtain access to and build a bigger market presence. Ecommerce has expanded its online store, allowing customers to buy everything from apparel and coffeemakers to toothpaste and action figures from the comfort of their own homes.
As an online business owner, you'll need to learn about logistics. Back-end supply chain management is essential in today's industry, but it's more important in eCommerce. You must rely on third parties to store and delivery your items and services because you don't have a physical storefront to hold inventory. This is essential for fundamental time management as well as your bottom line.
DocShipper Tip : Don't underestimate the importance of the 3PL in any shipment you make. Before doing something you will regret, gather as much as info that you can with our experience in 3PL or directly contact our specialist.
What exactly is logistics?
The administration of how resources are gathered, kept, and shipped to their final destinations is known as logistics. The transportation and placement of these items and services must all be planned, executed, and controlled within a system that is structured to fulfill specific objectives that differ by industry.
In a broader sense, logistics management involves the following steps:
Locating and discovering potential distributors and suppliers

In terms of commercial output, determining their accessibility and efficacy

Developing commercial partnerships and determining the most cost-effective solutions

Keeping up with demand, larger companies frequently collaborate with many partners.
However, your small business does not have to work with multiple businesses to manage the operations of your eCommerce website. If your business is small enough, you can ship and store your products with local businesses and organizations.
What is the definition of eCommerce logistics?
The activities involved in keeping and shipping inventory for an online store or marketplace, including inventory management and the picking, packaging, and shipping of online orders, are referred to as eCommerce logistics.
With millions of shipments being shipped across the country every day, it's critical that procedures are in place to keep them on track and ensure that they get to their destinations on time.
ECommerce logistics begins with the movement of merchandise from the manufacturer and continues until it reaches the final destination of the end client. One of the most important aspects of eCommerce logistics is digital fulfillment, which includes:
Management of inventory

Storage and warehousing

Picking, packing, and shipping orders is known as order fulfillment.
The intersection of logistics and modern e-commerce
Mastering the fundamentals of logistics is one of the requirements for establishing an e-commerce firm. Back-end supply chain management is becoming increasingly important for modern enterprises, regardless of their size.
If your company doesn't have a physical location to store products, the best option is to use third-party logistics companies to assist you. Outsourced assistance can ensure that your business operations function effectively without having to worry about product storage and shipment.
DocShipper info : If you are looking for a company who can provide you the help you need to ensure your business operations, please contact us !
What is a typical business's logistical process?
When small firms have goods that need to be transported or stored, they follow a straightforward logistical process.
The procedure normally begins with a customer placing an order for a product on your website, followed by an inventory software activating the transaction. For a flawless logistical process, it's becoming increasingly necessary to have integrated inventory management software installed on your e-commerce site.
Inventory control
Inventory management entails following proper procedures for keeping track of stored items. This technique makes it easy for your digital store to keep track of stock. You'll also be able to forecast which things will sell better than others.
The rationale behind inventory management is to ensure that firms do not run out of things unexpectedly. The purchase habits of your customers can help you forecast how well your products will sell in the near future.
      2. Storage/warehousing
Warehousing is a logistics process that involves employing actual stores to store, organize, and track products that have yet to be transported to customers.
The discipline of warehousing has seen great advancements over the years. The majority of these advancements make it easier for e-commerce players to track inventory utilizing warehousing management systems.
Traditional warehousing management approaches are time-consuming and expensive to implement.
     3. Fulfillment of orders
This technique, which is the most important part of both logistics and e-commerce, ensures that clients receive their products on time and in good shape.
You have the option of hiring a third-party provider or setting up an in-house order fulfillment service. Which path to follow will be determined by the consumers' geography, business size, and order amount.
Logistics challenges in e-commerce
While logistics is extremely useful to e-commerce businesses, it is fraught with difficulties. Even if your organization is exp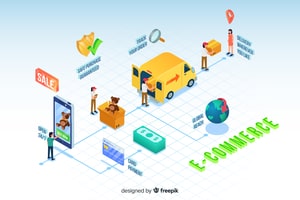 eriencing e-commerce logistics issues, your clients will anticipate flawless product storage and shipping processes.
As these issues develop, it's a good idea to protect your loyal customers and stay relevant in your industry. The following are some of the e-commerce logistics issues that your business may face:
Same-day delivery resources
Other e-commerce companies (both small and large-scale) seek to follow in the footsteps of e-commerce giants like Amazon, which provide same-day deliveries. If an online merchant has the means to support speedier logistics and fulfillment, same-day delivery is convenient.
You might want to keep your firm competitive by shipping goods to customers the same day they order them. If you don't have the means to make the service a reality, it can be frustrating.
      2.Loss of identity
Because of the commodity, consumers are increasingly relying on online shopping sites to supply a wide range of services and products. One of the e-commerce issues is identity theft, which makes it harder for consumers to enjoy the ease of online buying.
If your clients' credit card information is stolen while trying to buy something from your site, it might be devastating to your business. Because they can no longer transact with your company, the customer will be compelled to leave the cart unattended.
In the long term, cases of identity theft on e-commerce sites affect the logistical process, since customers have difficulty purchasing orders and do not receive order fulfillment.
      3.No shipping charges
As a means to entice customers to spend more, online shops are increasingly giving free shipping.
Most individuals are unaware of how much it costs a retailer to provide such a service. If your company uses a third-party logistics su
pplier, you'll have to cover the charges because you give free shipping.
Because they didn't factor in shipping costs in their product prices, some businesses lost money after introducing the free delivery incentive.
      4.Untrustworthy logistics companies
While third-party logistics companies are required to be conscientious in their job, some make it impossible for online retailers to send products to customers or keep inventory on hand.
When a product takes longer than expected to arrive, your customers will become frustrated. They don't want to hear that the logistics company is to blame for the delay.
Finally, engaging with an untrustworthy logistics provider may result in product delivery delays, causing your clients to lose faith in your comp
any.
      5.Inventory management or shipment tracking software technical issues
E-commerce logistics advancements are making it easier for online retailers to maintain track of stored inventory and goods that are transported to customers. Not all logistics-related solutions are effective.
The software you're using to track things could be damaged or have technical issues. You'll lose information about the status of products being dispatched to your consumers while you wait for it to be corrected. If this problem takes longer to resolve, your company will have to deal with some damage control.
Consumers are expecting more from all of their online shopping destinations. Strong eCommerce logistics can increase productivity, lower delivery costs, and improve customer satisfaction.
FAQ | What is E-Commerce and What Role Does the Field of Logistics Play in Commerce
Question 1 : What is 3Pl service?
Answer 1 : 3PLs (The third party logistics)refers to the suppliers, which are external, providing all or part of the logistics services to the corporations. They provide logistics services generally including transportation, warehouse management, distribution, etc. This is what we do in Docshipper, provide you with the most professional 3PL service.
Question 2 : Can I really trust an outside company to handle some of the steps in my business?
Answer 2 : Of course it is! The companies offering a 3PL service are experts in this field. They are used to working on these issues and know how to optimize the different steps. However, each company does not have the same level of expertise, so it is up to you to choose the one that suits you.
Question 3 : What is a good logistics partner?
Answer 3 : The right partner will not only take care of your logistics business, but will also offer you customized solutions.
Question 4 : What are the disadvantages of 3PL?
Answer 4 : The main disadvantage of a 3PL service is the lack of supervision that you can have, the operations will be done in autonomous ways without your direct control. This is why it is important to control the quality of your provider. Another disadvantage is the dependence on your 3PL provider when it no longer suits you.
Author Bio
Robert McMillen

"Robert is an entrepreneur, finance professional, consultant, and
passionate writer at Instant Loan Online. For many years using his industry
knowledge and experience he has helped his clients to create more wealth
and reduce costs."
DocShipper info: Do you like our article today? For your business interest, you may like the following useful articles :
DocShipper Advise : We help you with the entire sourcing process, so don't hesitate to contact us if you have any questions!
DocShipper | Procurement - Quality control - Logistics
Alibaba, Dhgate, made-in-china... Many know of websites to get supplies in Asia, but how many have come across a scam ?! It is very risky to pay an Asian supplier halfway around the world based only on promises! DocShipper offers you complete procurement services integrating logistics needs: purchasing, quality control, customization, licensing, transport...
Communication is important, which is why we strive to discuss in the most suitable way for you!